Update on Hive 1, which was hived 18 days ago:
May 16, 2013
Went out to check on the bees and see how they are doing. It's been 18 days since they were hived. We've not had a repeat of finding a bunch of dead bees on the floor, so that's a good thing. The colony population has dropped quite a bit, but we realize that is going to happen when you don't have brood emerging during the first three weeks. We've never found the queen, but we haven't looked all that seriously for her. Didn't think we needed to as the bees are happy and we now have lots of capped brood! We expect a population explosion next week!
The bees are still taking syrup. I think that they'll be able to start capping honey in a few days as well.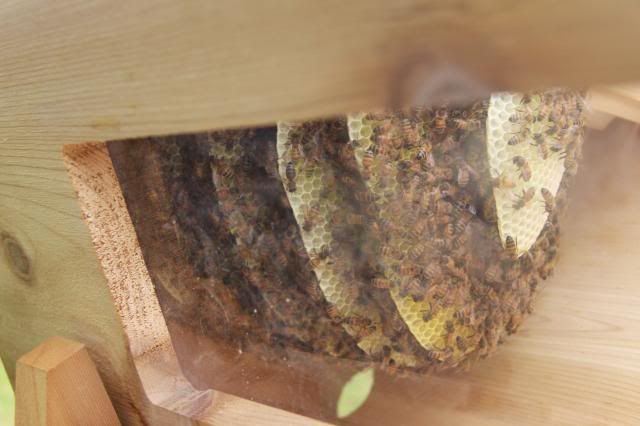 Look at that almost solid wall of brood! We may not have seen her since we hived her, but that queen is doing great!
Other notes: When I opened the top I found in the non-used side of the hive some of those very large black ants. We got them out, but they were back soon after we closed the hive.
We've had a problem with our hives rocking back when we opened the lid. I purchased some pre-made wood shims and inserted them between the tops of the stand legs and the hive. I had considered securing the hive to the stand, but I like this better.
I'm going out of town tomorrow. I'm looking forward to coming home next week to a larger colony!
Update on Hive 2, hived 11 days ago:
We decided to go into the hive today to check for cross comb and things in general after 11 days. A few observations were made: First, the package itself was larger than our first one. Second, the bees in the package appeared to be larger than the bees in the first package. Third, this colony has made much larger combs than the first package.
We have been checking on the hive from time to time, of course. One issue we're having with this hive has been with wasps inside the lid. The first time we found them there were two with the beginnings of nests being built. Since then we've not had the beginning of nests, but we've still had one or two in there whenever we've opened the hive. There were two today. Rhonda, since she was wearing gloves, grabbed and killed both of them.
We do see some capped brood, somewhat randomly scattered. We saw the same thing with our other hive (or my wife did—I didn't have the opportunity to get into the hive when she did.) Another week and I imagine it will look like the other one.
Photos: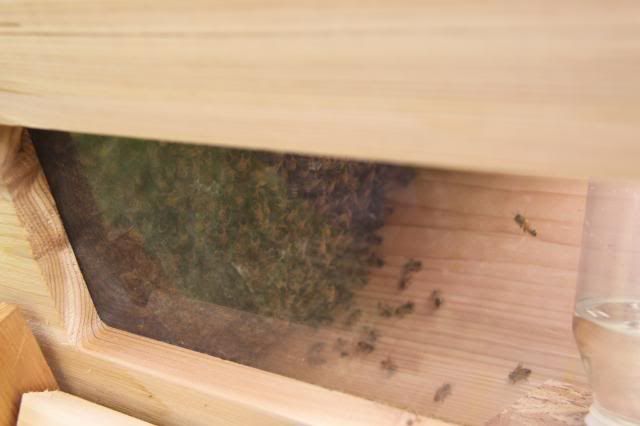 Large comb…
Big clump of festooning bees hanging from this one…
And we did see the queen in this one. The fact she's marked helped! 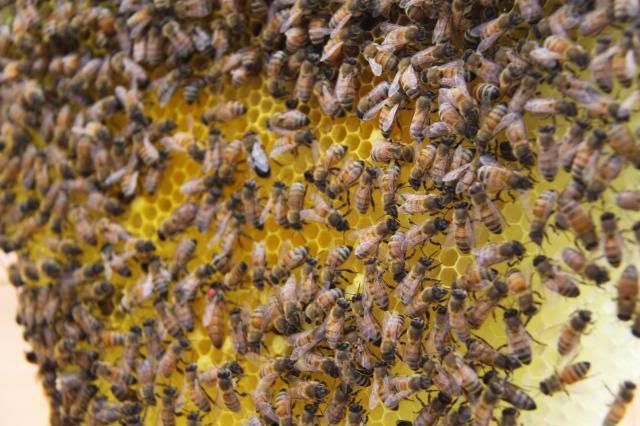 Oh, and after we'd closed up the hive and had been away for a bit, I returned to cut off the extra length of the cargo strap we use to make sure the hive can't be blown over. While I was loosing the strap a lone bee decided she didn't want me messing with it, landed on my hand, and delivered my first sting. I watched her pull it clear of herself, scraped it off, and proceeded. Interestingly, I had a feeling I was going to be stung this time just by the sound of her "buzz" as she came in.